Product
Surgical Mask BS EN 14683 TYPE II
Brand
British Mask
Category
Disposable Medical
Type
Disposable Medical Mask
Download Product Card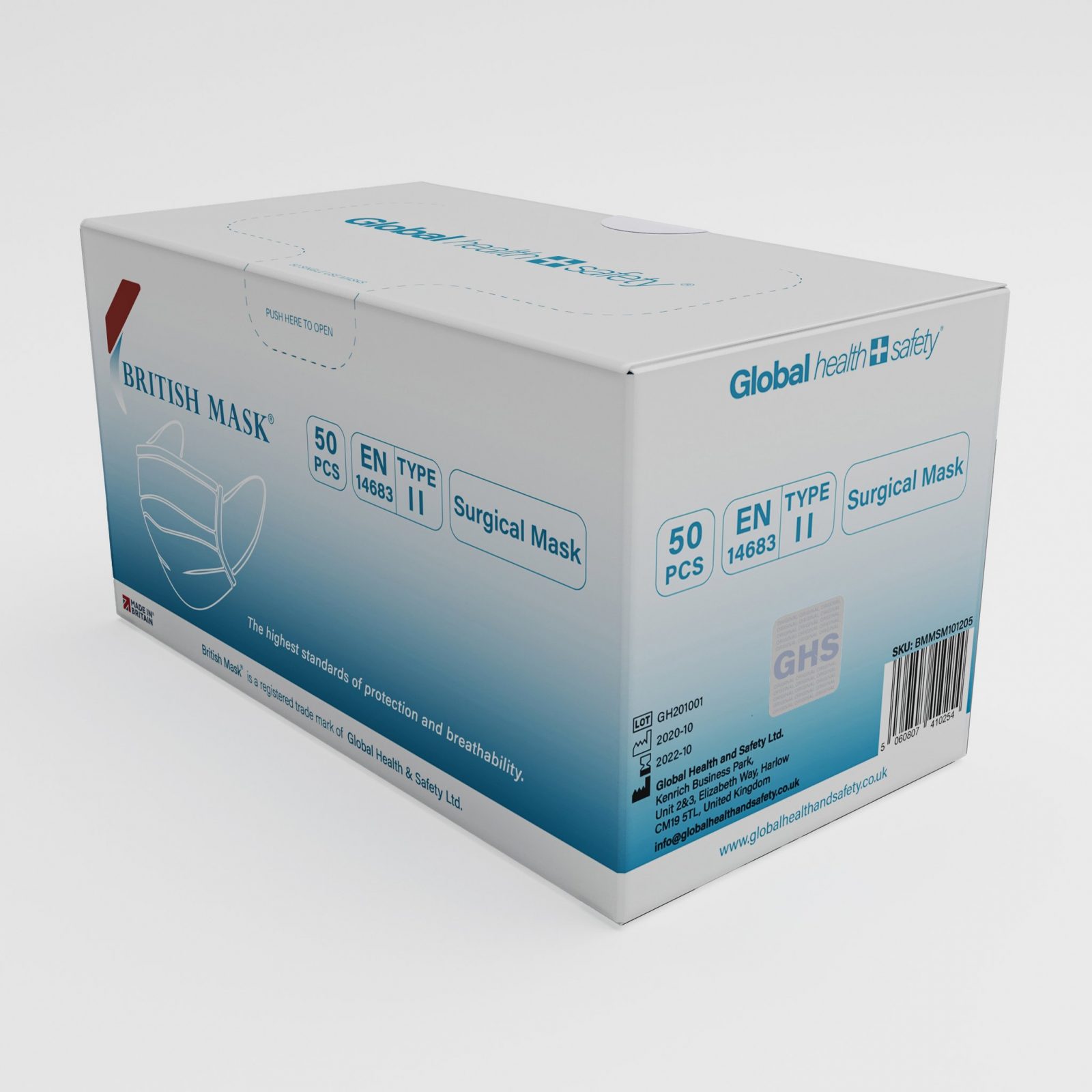 | SKU | Size | Colour | Pack |
| --- | --- | --- | --- |
| BMMSM101200 | Standart | White | 50 pcs/box |
| BMMSM101204 | Standart | Pink | 50 pcs/box |
| BMMSM101205 | Standart | Blue | 50 pcs/box |
| BMMSM101206 | Standart | Green | 50 pcs/box |
| Each Box Contains | | Features |
| --- | --- | --- |
| Lot No | + | One Size |
| Expiry Date | + | Soft Touch |
| Production Date | + | Latex-Free |
| Manufacturer Info | + | Disposable |
| GTIN 13 Barcoding (Box) | + | Three Layers |
| GTIN 14 Barcoding (Case) | + | High Breathability |
| Temper Evident Security Seal | + | Comfortable Earloops |
| Security Hologram | + | Hi-Tech Premium Melt Blown Filter Media |
British Mask BMMS 1200 Series disposable surgical masks crafted from cutting edge three layers, medical grade technical non woven materials to ensure exceptional comfort and maximum protection.
Each mask offers 98% bacterial filtration efficiency and complies with the BS EN 14683:2019+AC Type II standard.
Global Health & Safety surgical masks offer proven filtration and may help to minimize the risk of transmission of viruses without compromising comfort and breathability.
REGULATORY
BS EN 14683 : 2019 + AC TYPE II
MEDICAL DEVICE CLASS I